Dr Kevin MacDonald Destroys the Khazar Theory!
Dr. Kevin MacDonald comes on the Dr. David Duke Radio Show and effectively exposes Khazar Theory as completely a bogus concept purposely promoted by Zionists to hide their racism!
Jews: "It's not the Jews! It's the Turkic Khazar Mongolians!"
Let us completely exterminate the Khazar theory
The so-called Khazar conversion is claimed by subversive Jews to have taken place somewhere between the year 740 and 920. So therefore, if the Khazar theory is legit or even relevant, Jewish group behavior and nefarious Hebrew deeds must have an origin after the conversion, right? So the "true" Jews who have pure Jew blood, unaltered by any conversion or admixture of Khazar blood, must then be completely normal human beings.
The Talmud was written before the supposed Khazar conversion
The Talmud has two components: the Mishnah (c. 200 CE), and the Gemara (c. 500 CE). Let that sink in for a while "goyyim". The racial codex of the Jewish race, the Talmud, was written hundreds of years before Khazars even knew what a Jew was.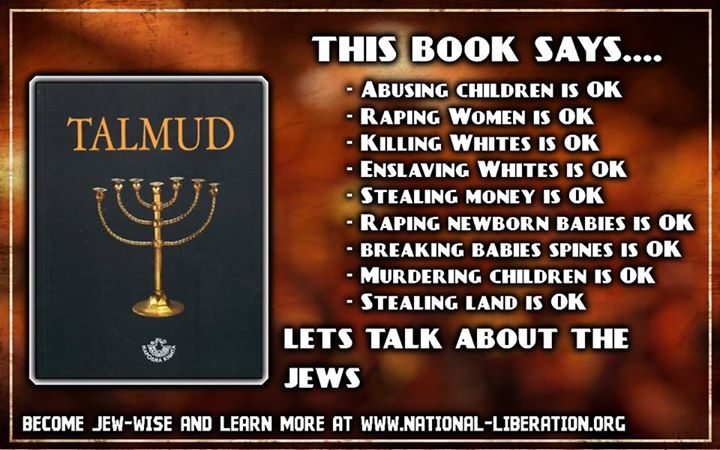 Jews were baby-raping child-molesting pedophiles before the supposed Khazar conversion
Jews were thrown out of countless countries before the supposed Khazar conversion
Let us compare Jews and Central-Asian Khazar / Turkic / Mongols biologically

Let us compare the group behavior of Jews and Central-Asian Khazar / Turkic / Mongols

What is the purpose of this misdirection and deflection? Why did the Jew Arthur Koestler invent the Khazar myth? Why do Jews and traitors push this fairy tale?